A sleeper sofa has dual functions. It offers convenient seating for the house and serves as an extra bed. Though a sleeper sofa has a lot of benefits, its low comfort level is a major shortfall. This shortfall is linked to the low comfort of its mattress.
However, many people enjoy sleeping on a sleeper sofa, but they are not satisfied with the mattress's comfort. If you are among this group and wish to improve on your mattress comfort, then read on.  This article will put you through ten easy ways on how to make a sleeper sofa mattress more comfortable. It will also clarify the reasons why your sleeper sofa bed mattress is uncomfortable.
Why Is Your Sleeper Sofa Bed Mattress So Uncomfortable?
Sleeper sofa mattresses used to be very uncomfortable before now. Although things have changed for the better, and people that use it often can attest to this. However, there are reasons behind this discomfort. We will be discussing these fundamental reasons in this section.
Sleeper sofa mattresses are usually very thin when extended. They are almost half of the normal mattress for a bed. This makes you feel the impact of the metal support more when you sleep on it. The experience can be very irritating and also causes a lot of discomforts.
The support or frame of the mattress and even the sofa often consists of harder material like metal. So, you will not also feel discomfort from the metal base of the mattress but all around the edges.
Another obvious reason is the small space. The sleeper sofa mattress is not usually large or long enough. As a result, tall people normally find themselves hitting the metal frames while asleep.
However, some sleeper sofa mattresses don't fall into all these points outlined above. Some brands have modernized their products currently to correct these issues.
How To Make A Sleeper Sofa Mattress More Comfortable
This section contains the ten easy ways on how to make a sleeper mattress more comfortable.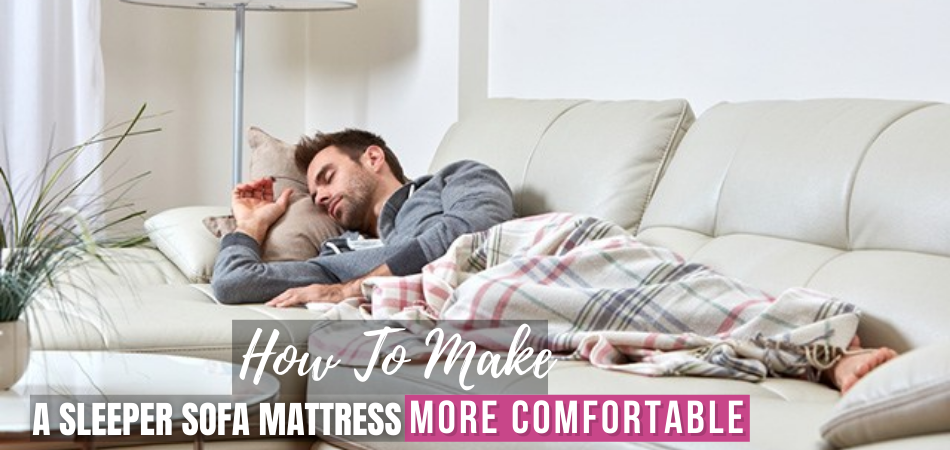 1. Sleeper Sofa Mattress Topper
Mattress toppers that are 1.5 to 2 inches thick will increase the comfort of your sleeper sofa mattress. They reduce the pressure from the frames and provide additional support to the existing mattress. A typical example of mattress toppers for sofa beds is thick memory foam toppers.
You need to secure your sleeper sofa mattress with the mattress topper under the same sheet. This will prevent the mattress topper from slipping off at night. Aside from using a sheet, mattress clips can also serve the same purpose.
2. Plenty of Pillows
Sleeping with other pillows surrounding you is not the same as when you have only one for your head. The nature of your pillow is a determining factor in the quality of sleep that you will have. Using a bed or sleeping pillows is better than using sofa cushions or side pillows.
While choosing your pillow, go for the fluffy ones or pillows manufactured from feathers. If you are allergic or have joint pains, the best option for you is pillows manufactured from visco-elastic foam.
3. Use a Duvet
If you can not afford to buy a mattress topper, a duvet is a good alternative.  You can just place it on the sleeper sofa mattress and sleep on it. The duvet is thick and will provide additional support and comfort.
If you opt for this idea, you may need another duvet, sleeping bag, or blanket to cover yourself.
4. Maintain Cleanliness
Sleeping on a clean blanket gives a level of comfort. Things like dirty odor, spills, and specks of dust, etc., will not disrupt your sleep. To make your sleeper sofa mattress more comfortable, ensure you maintain cleanliness.
You can deep clean the sofa mattress using a stain remover or vacuum cleaner. You can also take it outside occasionally to let it breathe. If you can, spray a fabric refresher on it. But do it after cleaning or airing.
5. Use a Good Blanket
However, it's also important to consider the type of blanket as they offer varying levels of comfort. You can't use a heated blanket with thick padding for summer since it's meant for winter. Cooking blankets are mostly products of cotton, making them suitable for summer or hot weather. It allows for a free inflow of air and doesn't allow your sleep to be interrupted by heat.
6. Flip the Sofa Mattress
Flipping over your mattress helps you to prevent hip pain, stiff spine, or sore back. However, sleeping on a sagging mattress will increase the impact of the iron frames on your body. Hence, it's important to flip over your sofa mattress once you notice that it's sagging.
Your sofa mattress sags when you start noticing uneven gaps; simply turn it over. Doing this will not only make the sofa mattress more comfortable, but it will also increase its lifespan.
7. Repairs
Ensure to always fix any fault on your sofa or mattress once you notice it before it becomes too late. Good examples of common Sofa problems are;
Squeaking noise
Frayed or stained sofa mattress
Rust in the base frames etc.
8. Use a Plywood Base
If your sofa mattress is sagging or you have a squeaking base frame, make a plywood base. Plywood can make your squeaking base frame more comfortable. Simply cut a portion of it with the same measurement as your sofa couch. Then put the plywood between the mattress and the box spring to enhance stability.
A good alternative to plywood is wood slabs. You can achieve the same aim by placing two slabs of wood. But you need to ensure that they are not edgy or too sharp. However, if the thickness of your sofa mattress is less than 4'', this idea isn't good for you. The plywood or wood slab is too stiff and needs good padding to make sleeping on it more comfortable.
9. Diffuse Essential Oils
This process is known as Aromatherapy. It involves giving a pleasant smell to your mattress to make it more comfortable and easier for you to fall asleep. You can achieve this by spraying a mixture of essential oil and water on the sofa mattress. Another method is to place an oil diffuser together with your favorite fragrance close to your sleeper sofa before sleeping.
You can use fragrances like peppermint, roses, lemon, vanilla, or any other fragrance that you like.
10. Buy New Sofa Mattress
If your sleeper sofa mattress has become too thin, old, or worn out, go for a new one. Always choose high-quality materials with good designs like a memory foam mattress, hybrid and pocket coil, etc.
You also need to consider the thickness, don't buy sleeper sofa mattresses with thickness below 4" to 5". If you are buoyant enough, buy the ones with a thickness of about 7" to 10".
Conclusion
Sleeper sofa mattress wears and tears as the length of usage increases. This means that they will become less comfortable with time. That is why many sleeper sofa fans face the challenge of how to make a sleeper sofa mattress more comfortable.
We hope you already know what to do either for yourself or your visitor if you are in this category. Follow the easy remedies above to enjoy your sleeper sofa more.