Let's say you have some guests coming over for the night, but you have no extra mattress to put them up. In such cases, your best bet is an Intex air mattress with a Built-In electric pump. But how can you inflate one of these?
Many inflatable Intex air mattress has a built-in pump that you can run with electricity. You can also use car batteries, solar panels, campsite electric outlets, air pumps, and other manual tools to power your built-in pump in an outdoor setting.
In this article, I will talk about how to inflate an Intex air mattress with a built-in pump. You will also find out a few ways to pump your air mattress with and without electricity in the process.
What is an Inflatable Intex Air Mattress?
An air mattress or an airbed is a very lightweight bed that you can fill up with air. Generally, these beds are made of urethane plastic, rubber, and comfortable fabric for proper cushioning. Many people use an air mattress for their daily sleep as they are lightweight, easy to move, and you can simply fold it up after every use to save some space.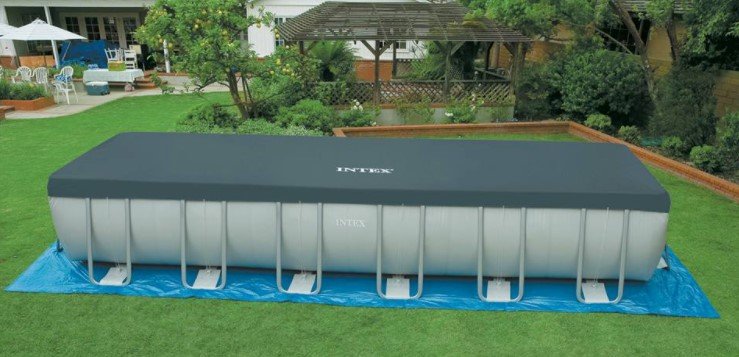 Many manufacturers are offering different designs and features in an inflatable airbed, and Intex is one of the best among them. Intex offers four different series of inflatable air mattresses for cars, SUVs, trucks, bed, camping, or other purposes to meet your demand.
Moreover, there is a wide range of choices up to Intex air mattress queen size. These beds are famous for durability, low price, anti-odor, and anti-sagging built. Besides, unlike memory foams, you won't have to worry about bug infestation in an Intex air mattress due to the PVC material. Because of all the fantastic benefits Intex offers, they are becoming more and more popular here in the U.S.
How to Inflate Intex Air Mattress with Built-in Pump?
Inflating an Intex airbed is a piece of cake, only if you follow some precautions. Here is a step-by-step guide on how to inflate an Intex air mattress with a built-in pump.
Step-1: Set the Location
Deciding where you are going to put the air mattress is the first thing to consider. If you are using the bed inside your house, then this process is easy. But, this gets quite tricky in an outdoor setting, like in a campsite.
First, make sure there are no sharp objects on the ground that can damage your mattress. As air mattresses are filled with air, any leakage will ruin your night.
Step-2: Locate the Built-in Pump
Generally, air mattresses with built-in pumps come with power cords inside a covered compartment. The hidden compartment keeps the control board away from children and reduces the power cord's chances of getting all tangled up.
Step-3: Power Up!
Intex air mattresses with built-in pumps mostly require electricity. You can plug the electric pump in a nearby wall outlet, and the automatic pump carries out the hassle-free inflation process.
However, this process can get quite an issue if you are camping or on-road. Car batteries can do the trick, but there are other ways which I will discuss later in this article.
Step-4: Inflating the Air Mattress
Most built-in electric air pumps work both ways, meaning they can both inflate and deflate Intex air mattresses. So, there are both kinds of switches in a control board. Make sure you are choosing the correct command.
Air pump inflation doesn't take much time. For example, a queen-size Intex air mattress with a built-in air pump may take around 4-5 minutes to inflate fully. You can stop the process earlier if you like. But, I would recommend proper inflation as air beds tend to deflate some air due to room temperature and air pressure.
What are the Ways to Inflate Air Mattresses with Electricity?
Well, you plug in the air pump and wait a few minutes! At least, that's the basic idea. But what if you need to inflate an air mattress in an outdoor setting?
There are few ways to go about it. Some of them I have listed below.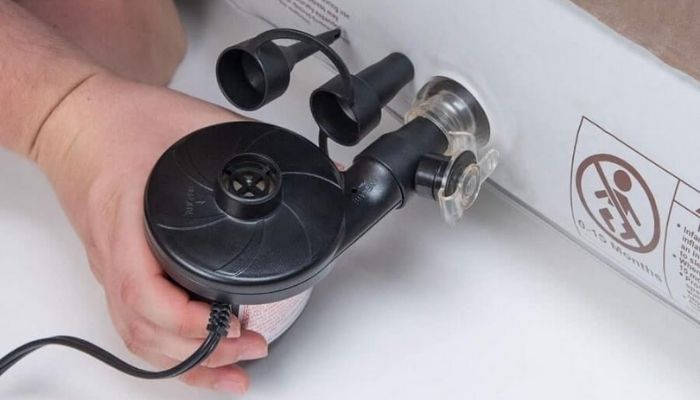 Pick a campsite with electricity. If your tent is far from the power source, then you can use an extension cord.
Inflate with your car battery. You can directly plug in the power cord to your car. However, you will need a DC power inverter in this case to regulate the voltage to the desired value. But be sure to keep your vehicle turned on during the process.
Use an Intex air mattress pump. This way, you can inflate mattresses that do not come with a built-in pump. However, there are also battery-powered air pumps available as well.
Use solar power to inflate air mattresses. Solar panels can charge battery packs that you can use to power an air pump and other accessories.
Other options include air compressors, leaf blowers, and hair dryers. You can use anything that can blow a fair amount of air to inflate an air mattress.
What are the Ways to Inflate Air Mattresses Without Electricity?
There are also manual pump or non-electric Intex air mattresses with built-in foot pump available as well. You can use the foot pump, but there are other options to inflate an air mattress without the help of electricity.
Use a double-action bike pump. A double-action pump can inflate during a full push and pull cycle without losing much pressure.
Use a hand pump. Both hand pump and foot pump work the same way. But a hand pump may take less effort, considering you have a twin-size airbed.
Inflate with a garbage bag. Choose a big or medium-sized garbage bag to gather a large amount of air and then blow it inside the air mattress.
The last resort is to use your breath. This is not an ideal alternative as it takes a lot of energy and makes you lightheaded. But, you can use it as a last resort.
Conclusion
Intex features built-in pumps in most of their inflatable air mattresses without needing a manual pump without electricity. But the process and timing may vary from one product to another. With proper maintenance, these airbeds can last up to 10 years or even more. But the only issue is that they are prone to leakage.
Luckily you can seal a leak with adhesives and an extra piece of polyurethane fabric. Besides, you can deflate the mattress any time you want and fold it up for future use. So, why not use this portable and comfortable bedding for your next outdoor trip!