According to Statista, the highest share of purchased air mattresses was queen air mattresses in 2017 in the US. Hence, it shows it is the most popular mattress size. Therefore, a question arises, why this size is so popular?
The answer is simple. The size of a queen mattress is more efficient for couples and families than other sizes like twin air mattress or king size.
Now, how big is a queen size air mattress? Here, we will give you all the information you need about a queen size air mattress. Also, you will get to know about its multi-purpose usage and flexibility. Take a look!
What Is A Queen Size Mattress
An Air mattress sized exactly 60 * 80 inches, or 5 * 6.66 feet, is defined as a queen air mattress. Primarily, it is the best mattress for two with plenty of space for them as the surface area holds 4800 sq. in.
Notably, the dimension makes it perfect for couples to have a comfortable position while sleeping. Therefore, it is the most popular choice for a master bedroom or 12 *12 feet room. Also, there are three more variants with the standard one – California queen, Olympic queen, and Split queen.
Specifically, the California queen is 4 inches longer, and the Olympic queen size is 6 inches wider than an average queen. These variants have made the queen size beds classic for tall people or personal space between the two. Lastly, the split mattress is identical to the standard one, except you can divide it into halves for taller person.
Is Queen and Full Size The Same
Queen size air mattress isn't the same as a full-sized mattress in every way. So, please don't get confused while buying the bed when you get it from stores. Here are the facts that make them different,
The Dimension of The Mattress
Standard full-size mattress holds 54 * 75 inches dimension. In contrast, a queen size mattress has a more significant dimension containing 60 * 80 inches. Therefore, full-size bed dimension doesn't fit for couples, but queen size does it significantly.
The Accessories and Room Size
Bedding accessories like pillows, sheets, mattress topper, etc., can make you confuse when the size is close. But it's not the same between full-size and queen-size mattresses. Significantly, the sheet of queen size mattress is more extensive and a bit expensive than a full-sized one.
Also, full size needs lees pillow than queen size as it is best for single adult or single sleepers. But full XL needs quite similar accessories as the queen-size mattress.
As per larger sizes of rooms, queen size can afford anything above 10 * 10 feet. In comparison, you can't use full size above 10 * 12 feet room as it doesn't fit in master beds.
Comfort and Price
Queen size mattresses have enough sleep spaces for couples, even for your pets. Therefore, you can sleep as you like with your partner and all comfortably. But for a standard full-size bed, you can only sleep with yourself. Otherwise, you have always been the cuddling couple in the bed.
You can have the best queen mattress under 200 or more. But a full-size mattress is much cheaper than a queen as it's smaller in dimension and less weighted.
Queen Vs King Size – Which One Is The Best For You
As we mentioned before, queen size comes before king-size bed as per the dimension. Here, you can think 'the larger, the better, but it isn't for the mattress. Therefore, we will discuss all it for your best decision,
Cost
You can have a queen size mattress has perfect size on a tight budget, mostly under 200. But standard king size bed is pretty expensive as it costs at least $100 more than a queen. Also, the accessories like king bed frame, foundation, etc., will cost more for king-size bed dimension.
Transportation and Lifting
As king-size has a dimension of 76 * 80 inches, it is pretty challenging to transport. In comparison, queen beds fit perfectly in trucks and cargo vans. Similarly, it needs more power to move king size mattress than the queen one in-home.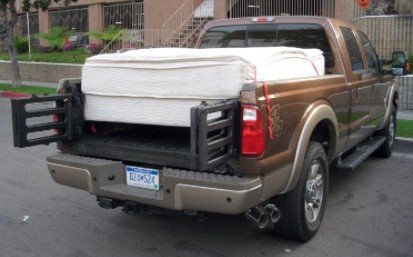 Room Size
Standard king air mattresses size is 16 inches wider than queen size regular mattresses. Therefore, this dimension lefts a little space for other stuff, even in the master bedroom. But the common size of queen mattress lefts efficient floor space for bedroom furniture.
Air mattress in king size
You can also find both queen and king air mattress size with or without a built-in pump. If you're getting a large size air mattress, getting one with a built-in electric pump would be better for effortless inflation. Internal pumps or express pump can be an easy way to inflate or deflate.
Partner Size and Position
I want enough room for three adult people; king size can be a perfect choice. But if it's just for a couple, then you can choose standard queen bed size without any doubt. however, if you're more of a single person the twin air mattresses will do better. In terms of sleeping positions, both mattresses give you enough space for you and your partner. Also, you will feel pretty flexible to move without waking others.
How To Keep Your Queen Mattress In Good Shape Longer
A perfect-sized air mattress can make your sleep more relaxed. Therefore, queen size air mattress has been popular for years. But keeping the bed good for long-term use needs proper usage and care from the beginning. Here are some pro tips for you-
Always use the best quality mattress protector on the inflatable mattress before using it. Otherwise, the protector won't fit in after that.
You have to ensure efficient support on every side of the mattress from the air coils. Also, some extra help with the bar on the center can make your sleep much comfy.
Maintain a regular cleaning of the sheets. Therefore, your mattress will be safe from bacteria or dust mites in the mattress layers.
Wash the mattress after reading manufacturer cleaning directions. Also, move the mattress carefully according to it.
It would be best to keep it in sunlight sometimes, especially when the weather is often cold and you are having frequent overnight guests.
Keep rotating the mattress after a particular time. Therefore, we will suggest you do it after every two to six months.
Inspect the mattress whenever you feel something is wrong. Whether it's a hole or bedbug, you have to prevent it as soon as possible. Check it up especially after camping trips.
Don't make any unusual movement that creates an imbalance, like jumping on the inflatable air mattresses.
In Conclusion
We recommend a queen-sized air mattress for perfect sleep with your partner and pet. Also, you have to inspect the mattress as we suggested to enjoy ultimate durability. So, mind over the mattress and have a sound sleep! Whether you love the regular size mattresses or an air mattress, getting the right one requires you to know what size you need. Measure your bed, your floor size, and the amount of space you need to accommodate yourself, your partner, and your pet as well. for sound sleep, be sure about the firmness level you need