Camping with your dog can be the most amazing experience because dogs love this adventure, just like you. On the other hand, air mattresses are the most common thing to take on a camping trip to sleep or rest on.
But, it can be quite confusing whether can you use an air mattress for camping with dogs or not. That's because dogs have sharp paws that might render your air mattress useless with holes all over.
Well, the truth is, that's not entirely true. You can now go camping with your dog with the appropriate mattress, safe from dog paws. With every other factor in place, such an air mattress gives you and your pet the right platform to roll on and have fun.
Let's discuss the pros and cons of an air mattress for camping with dogs and how you can protect the air mattress.
What Is An Air Mattress?
An air mattress is an inflatable bed which is also referred to as an air bed. It's usually made of Polyvinyl chloride (PVC), rubber, or plastic. The air mattress is very lightweight and portable. Hence, you can conveniently carry it or store it within a small space. That's the reason air beds offer you a great sleeping platform while camping or away from your home.
They provide you with the excitement you need while camping such that you won't feel weary after your activeness. Also, you can even play on the air mattress with your dog if the surface is capable of withstanding the sharp paws.
Mattresses come in different shapes and sizes range from twin to king size and others in between. Also, you opt to customize the bed to suit your plan and desire.
You can inflate an air mattress by blowing air into its valve through the use of an electric or manual pump. Also, some mattresses automatically inflate once you open their valves.
What Is Camping?
Camping is an outdoor activity or expedition that you can undertake away from your home. There's usually the experience of staying overnight or more days with or without a shelter while camping.
In most camping activities, the campers create a tent or makeshift shelter while they are on the move. Also, some may decide to have recreational vehicles that may offer them more convenience and fun in their experience.
Engaging in an expedition with your dog can be quite adventurous. However, since dogs have sharp nails and the mattress is made has a comparatively vulnerable surface, the dog might damage it by puncturing. So, you should ensure you include an air mattress for camping with dogs that can withstand such sharp nails while you're packing.
Most dogs will always feel restless when they sleep ways from home. So you create a conducive atmosphere for their rolling and sleeping by bringing along your air mattress.
Can You Use An Air Mattress For Camping With Dogs?
The great adventure of camping with your dog will never be complete without an adequate platform for sleeping or rest. An air mattress for camping creates the right bed for resting and sleeping. In addition, the air bed gives you and your furry companion a perfect place to play and enjoy your outing.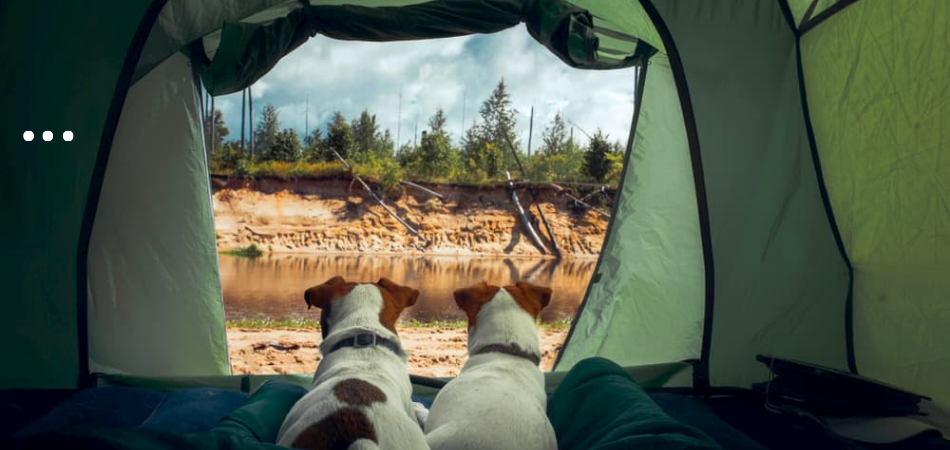 However, while using an air mattress for camping with your dog, always go for the sturdy ones. This will ensure the protection of the bed irrespective of the jumping and punching from you and your dog.
Here are some of the factors to keep in mind while choosing an air mattress for camping with your dog.
Mattress size
Picking out the right size of air mattress is very important while camping with your canine companion. Air mattresses come in different sizes such as full, king, queen, single and double sizes.
You may decide to select a separate bed for your dog. Also, you can go for the size that will accommodate both you and your dog based on your need.
Mattress Durability and Strength
You won't like to buy a mattress that will not last long, or that will spoil within the period of your camping. That's why you should go for an air bed of high quality with great strength. So, when on camping trips, always stick to a dog-proof air mattress.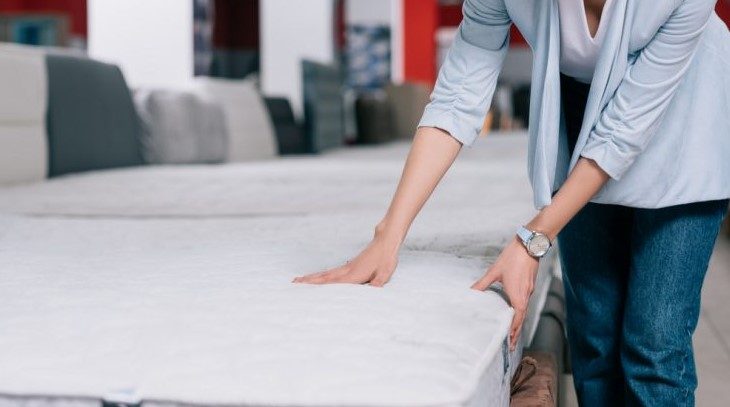 The strength of the mattress will account for its puncture-proof. If the mattress is too soft, especially on the surface, the claws of your dog can easily puncture the bed. Furthermore, an over-soft bed can sag quickly, making your camping experience frustrating. Therefore, you should always insist on a strong and durable air mattress.
Easy Inflation and Deflation
Choosing an air mattress with easy and quick inflation and deflation is the best option for your camping. It will be frustrating when your bed takes a whole lot of time to either inflate or deflate. The ideal inflating or deflating time for an air mattress is between 3 to 5 minutes. Any more than that is quite abnormal. You should stay ways from such air mattresses.
Storage
While purchasing your air mattress, you should plan for its storage as well. It is always advisable to deflate and store your air bed after each use. This will help to reduce the possibility of a puncture.
Also, besides using the air mattress for camping with your dog, you should consider if you intend to use the bed at home or not. That will determine how you will plan for the storage of your air mattress.
Cost
The cost of the air mattress you plan to buy is very important. Your choice of the bed should be within your budget besides other factors. Despite that, several great air mattresses at different prices will suit your plan and budget. Nonetheless, one important consideration to have in mind is to make sure the surface is strong enough for your dog's paws, meaning puncture-proof.
Pros and Cons Of Air Mattress For Camping With Dogs
Though air mattresses for camping with dogs have lots of advantages, there are still some shortfalls associated with them.
Advantages of having dog-proof air mattresses
Brings comfort while away from home – An air mattress gives you a great camping experience that gives you the comfort of a bedroom while in the wild. It provides you with the right platform for getting a good night's sleep and comforts away from your home.
Easy to inflate – The inflation of an air mattress is very easy and simple. Depending on the type of airbed you have, some inflate automatically, some don't. Also, you can use an electric or manual pump for the inflating process, which takes less than 5 minutes to complete.
Highly portable – One of the unique attributes of air mattresses is that they are lightweight and highly portable. You can conveniently move them without stress or pressure, and their storage takes less space.
Adjustable firmness – The quality of firmness you desire is easy to get when you use an air mattress for camping. You can deflate an over-firm mattress to meet your standard.
Larger than sleeping bags – An air mattress offers larger sleeping space for you and your dog than a traditional sleeping bag. Also, you can select from the wide range of sizes of air beds like the single, double, king, queen, and full sizes.
Great for blood circulation – Besides other physical advantages of using an air mattress for camping with your dog, there are also some health benefits. One of them is that sleeping on an air mattress ensures great blood circulation within the body. In addition, it brings pressure relief as you change the pressure points by shifting your position while sleeping.
Disadvantages of such air mattresses
Pumping could be noisy – Most times, pumping an air mattress could produce some noise which is quite irritating to some users. This could be irritating when you have to inflate it fast and the bed takes 5 to 10 minutes!
Internal wall seam may fail with time – Some air mattresses have their internal wall seam failing with time. This makes the bed become too saggy irrespective of the air pumping pressure for them.
Mattress may smell of plastic – Air mattresses are manufactured from PVC, plastic, or rubber. Some of them still give off the smell of plastic that could be choking for users, especially if it's not from a good manufacturer.
How to protect air mattress while camping with dogs
These are how you can protect your air mattress while camping with dogs.
Place a blanket both underneath and on top of the mattress. These will keep it safe from objects on the ground and the claws of your dog.
Always keep your dog's nails short. You should use a nail clipper and a Dremel tool in cutting and smoothening the pet's nails.
Ensure you deflate your air mattress when not in use.
Final Thought
Using an air mattress for camping with dogs offers you a great adventurous experience and fun with your furry friend. The most important fact is that the bed helps you eliminate stress and restlessness with the comfort like you get from your bedroom.
Now you know if can you use an air mattress for camping with dogs or not, the experience should be even more pleasing as you go camping.
Proper air mattresses with appropriate surface material will help you take your dot on the trip just fine and play with it. However, as discussed above, make sure you maintain the dog's paw and take precautionary steps to protect the mattress altogether.