Camping is fun, but it takes up a lot of energy. And, after a long day of connecting with nature, all that matters is to lay down in a comfy bed. Both camping cot and air mattress are a prior choice in this case. Wonder how they are different from one another? More specifically, which sleeping pad is the best one for your next camping trip?
Camping cots are more sturdy, durable, and the compact design saves up a lot of space. On the contrary, air mattresses are more lightweight, offer a wide range of use, and ensures excellent comfort. But there's more to it. This article will serve you as a side-by-side comparison manifest of camping cot vs air mattress. So, let's dive in and figure out what's best for you.
About Camping Cot
During World War II, soldiers used to rely on camp beds or cots for the various benefits of an elevated sleeping surface. But the history of sleeping cots tracks back centuries to the times of the Romans. Today, these sleeping pads are popular among camping enthusiasts.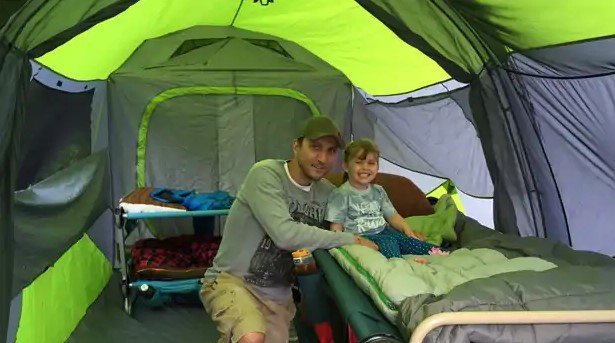 Cots offer an elevated surface to sleep on. Elevation helps with heat and air circulation. In other words, cots elevate you from thick layers of snow during winter and keep you cool from the hot ground during summer. Besides, you can also stay safe from different types of bugs, such as ground beetles. However, a sleeping cot will not provide you heat insulation, but it will keep you away from direct contact with snow and ice.
Most camping cots feature a wood, metal, or aluminum frame. The sleeping pad is generally made of polyester, nylon, linen, or canvas. Cots are easy to clean and assemble but a bit heavier than airbeds. The foldable rigid frames are either X or U-shaped.
Advantages of Camping Cot
A foldable camping cot is compact and lightweight. So, they are definitely a better choice than using a full-sized mattress while camping.
They keep you safe from pests and any type of fungal or bacterial contamination from creepy crawlies.
Sleeping cots help you retain your body temperature from the cold ground, preventing heat loss.
You can alternatively use sleeping cots for camping as benches with camping gear underneath.
Uneven terrains or rugged environments- a sleeping cot can withstand it all!
The area underneath offers enough space to store your valuable stuff safely.
You won't need any electric pump or other accessories to assemble these.
Disadvantages of Camping Cot
Cots are a bit heavy due to the aluminum or metal body frames.
They take up some extra space than other sleeping pads.
High-quality cots are relatively costliest than other sleeping options.
About Air Mattress
Air mattresses are inflatable, meaning you can fill them up with air when needed. Generally, you have to use an air pump to inflate the mattress. Some air mattresses with built-in air pumps come with both inflate and deflate features. But they require electricity.
However, some other air mattresses support manual pumps such as bike pumps, foot and hand pumps, etc. Air mattress for camping comes in a range of sizes and shapes for a single person or multiple. No matter how you inflate yours, they are one of the most important camping accessories without a doubt. Besides, you can use an inflatable mattress as your guest bed, car bed, even as a regular bed. Moreover, you can use a camping mattress for bad back as a good mattress can lead to better sleep.
Air mattresses or airbeds are generally made of PVC materials, rubber, or urethane plastic. There is no need for any metal frame or that sort. You don't have to worry about any sagging as we do with memory foam. These beds are water and weather-resistant and also very lightweight for easy transport. Moreover, you can just deflate the mattress and take it anywhere you go.
Advantages of Air Mattress
They are portable, lightweight, and easy to store or inflat right on the tent floor.
Since you can inflate them, you can take larger air mattresses where double camping cots take more space.
You can inflate and deflate the mattress to maintain proper firmness as per your need.
Air mattresses come in different sizes and heights, ranging from twin beds to king size.
These beds can be easily inflated and deflated in a few minutes with the help of an air pump.
Air mattresses are odor and sagging resistant due to their PVC construction.
Unlike memory foam or other natural fiber mattresses, an airbed is less prone to be affected by bugs, mice, or that sort.
Air mattresses are cheap, and some models don't require electricity to inflate, and have adjustable firmness.
Disadvantages of Air Mattress
There is a high risk of puncture if the ground surface is not cleaned correctly.
Air mattresses are not space-friendly, especially inside a tent.
As air mattresses are inflated, the temperature inside the air chamber will change with the surrounding environment.
An air mattress with a built-in pump may cause an issue while camping if there's no electric supply.
Camping Cot vs Air Mattress: A Side-by-Side Comparison
Although camping cots and air mattresses serve the same purpose while camping, they are quite different. Here's a side-by-side comparison between these two sleeping pads.
| | | |
| --- | --- | --- |
| | Camping Cot | Air Mattress |
| Structure and Durability | Cots have a metal framework. So, they are more sturdy, durable, and can withstand different weather conditions. | Air mattresses are prone to leakage and damage from rugged surfaces or sharp objects. Otherwise, PVC material is quite durable. |
| Storage and Portability | Although cots are foldable and compact, they take up some extra space and weight but can offer bed storage space. | Air mattresses are the most compact sleeping system when deflated and are very lightweight. |
| Ease of Setup | You won't require any additional tools to set up a cot that retains your body heat properly. | An air pump, external or built-in, is almost necessary to inflate an air mattress. |
| Size and Comfort | Cots are compact and may not be the best choice for a family sleepover. They are less comfortable than a mattress. | Air mattresses come in different sizes, and they are almost as comfortable as a regular mattress. They also provide health benefits too. |
| Elevation | Elevating the user a few feet off the ground is the prime feature of a camping cot. | You won't have any elevation off the ground with an air mattress. |
| Heat and Temperature Regulation | Due to the elevation, camping cots are better at heat and air circulation to maintain a comfortable body temperature. | The heat inside the air chambers changes with the room temperature. So the mattress may be hot during summer, cold in winter. |
| Application | Camping trips, army training camps, slightly cold weather winter camping, camping tent. | Regular bed, guest bed, camping experience, car or SUV bed, even on camping hammocks |
Conclusion
Now that you know all the differences between a camping cot and an air mattress, I hope you can decide what suits you best. Camping can be quite daunting without proper sleep at night. So, it is crucial to maintain a sound sleeping system. What's also essential is adequate maintenance of your sleeping system. Frequent cleaning, proper setup, and carefully maneuver can enhance the performance and lifespan of the cot or mattress. Whether it is a camping cot or air mattress, it can turn out to be a long time investment. So, decide carefully what you need for the many excellent camping or road trips to come.