When it comes to a baby's sleep, crib mattresses play a vital role in providing all the necessary and additional comfort. Crib mattresses are built in different ways and all of them offer different comfort, firmness, durability, and features.
Among many crib mattresses, the ones from IKEA have been widely used as a primary choice for decades. But the question is, are Ikea crib mattresses safe? Can you get one as the safest option among all other mattresses types?
IKEA crib mattresses are made with sustainable materials and non-toxic chemicals following utmost safety standards. Let's see how safe they really are, alongside other related aspects of IKEA crib mattresses throughout this article.
Overview Of Ikea Crib Mattress
A crib mattress is specially designed for baby cribs, which is manufactured by many mattresses manufacturers. Among many mattress or bed manufacturers, IKEA is one of the best and reliable mattress makers. They make mattresses with completely non-toxic material with a combination of several safety requirements.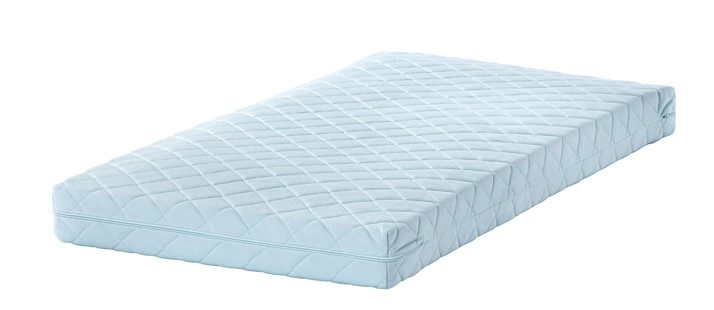 In addition to IKEA, you will find many crib mattress manufacturers that make good-quality and safe mattresses at a reasonable price. You'll easily have a top-quality crib mattress under 100 bucks and use it for your baby.
Are Ikea Crib Mattresses Safe?
Among many crib mattress brands, Ikea crib mattresses offer more strict safety standards. Since they are made of sustainable and safe materials, you shouldn't worry about anything. Here we'll show why an IKEA crib mattress is a safe mattress for a baby:
1. Firmness of the Mattress
While getting a crib mattress for a baby, you must think twice about the firmness. The crib mattress needs to be firm enough, and IKEA offers crib mattresses with comfortable firmness supported layers. Firm mattresses are far better than soft ones, and here we'll explain why-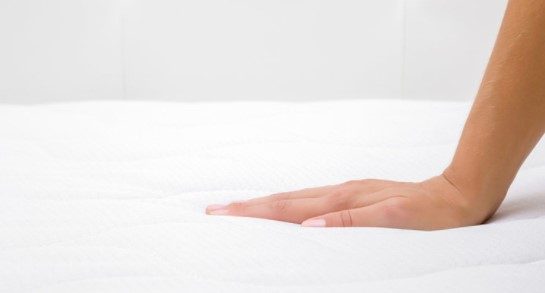 Soft crib mattresses can increase the risk of suffocation hazards while sleeping.
Also, increase the risk of SIDS or sudden infant death syndrome.
On the other hand, IKEA crib mattresses will retain the baby's body shape and support bones growing while sleeping. Since IKEA crib mattresses are constructed with appropriate firmness, it'll be the best pick.
2. Size of the Mattress
Size is another thing you need to give attention to while choosing a crib mattress. The right size mattress will never leave any space between the crib and mattress. Well, IKEA crib mattresses come in different sizes, including standard 27 1/4″ x 51 5/8″. And they also offer an appropriate thickness which is 5 to 6 inches.
So IKEA crib mattress will fit any against any crib bed frame. Therefore, you'll need to worry about getting your baby trapped in the gap. Always remember that more than two fingers gap between mattress and crib can lead to consequences.
3. Mattress Materials
A baby will spend most of the time in bed therefore the bed must need to be toxic-free. In that case, nothing can be a better choice than the IKEA crib mattress, and they also banned using CMR-substance. Most of the IKEA crib mattresses are made from-\
Cotton
Polyester
Natural Latex
Spring
Foam
The manufacture also uses many other materials, and all of them are sustainable, durable, and safe materials. Moreover, it's always a good option to choose a mattress made with organic and natural materials.
4. Mattress Cover
The cover is another vital aspect of any mattress. When it's about IKEA crib mattresses, they come with a variety of types, including:
Washable cover
Waterproof cover
Well-ventilated cover and durable covers.
The washable cover will let you wash them in the washing machine at 140°F. Or, if you're using a waterproof cover, with a damp cloth you can easily clean it. Therefore, you'll not need to worry about the baby's spills and thrills issues.
5. Convertibility of the Mattress
Convertibility is another key fact that makes the IKEA crib mattresses safe choice. They offer versatile usability and with two stage crib mattress usability. You'll find many IKEA crib mattress come with both firmer and softer side.
The firmer side will be the good option for infants and the softer side will be good for toddlers. Since most of the infants sleep in their back, the firmer side will ensure enough comfort for them.
And the softer side will let the toddler comfortably sleep in any position. Convertibility is another reason that makes the IKEA crib mattresses safe and perfect choice.
Are Ikea Crib Mattresses worth it?
IKEA crib mattresses are worth the cost because they manufacture all the mattresses with very specific safety standards. These mattresses offer enough firm surfaces to ensure the baby's stability and reduce any risk of suffocation hazards and SIDS.
Since most of the IKEA crib mattress come with washable covers, you can easily keep the mattress clean and dry. IKEA crib mattresses will be worth it because they also offer a safe sleep environment by ensuring good air circulation. In short, the IKEA crib mattress will do a great job of keeping the baby comfortable over time.
Final Thought
During the first year of your baby's life, they might spend more time asleep than awake. That's why it's essential to keep safety in mind about the bed or mattress. However, when you'll choose IKEA crib mattresses, you'll not need to worry about are IKEA crib mattresses safe or not.
They are made of non-toxic and organic materials and are also available in different materials, sizes. IKEA crib mattresses also offer the versatility of usability, and they are available in a reasonable price range. In short, IKEA crib mattresses will let you meet all your crib mattress-related and safety needs.