People sometimes travel with their air mattresses, especially when going to rural areas. If you're going by car, it won't be an issue. But if you're going by air, then you need to know if it's possible to take your air mattress along. So, the question is, can you bring an air mattress on a plane?
It is possible to travel with an air mattress even when flying to your destination. You can bring it as long as it is inside your carry-on. Also, you should check with the airline for luggage requirements to make sure that its weight and size are within the allowable range. But then, you must deflate the mattress and package it very well. If you didn't package it properly, it might get bigger than the size your airline allows. In that case, you will be required to pay extra charges.
Apart from the airlines, you will still need to contend with airport security. Read on to know more. This article will teach you how to do so.
Key Points:
An air mattress is inflatable, and it is constructed from PVC (polyvinyl chloride), textile-reinforced urethane rubber, or plastic. You can compact this air mattress when it is deflated, carry or store it in a portable form.
When an air mattress is deflated, you can enter the plane with it. But make sure that the weight and size range is allowable by the airline.
To ensure a smooth ride with your air mattress, cover it in the bag. Also, get a foldable mattress to avoid headaches at the airport.
Can You Bring An Air Mattress On A Plane?
An air mattress is allowed to carry on a plane for checked luggage and carry-on. But then, you will have to pass it through the TSA checkpoint first. According to the TSA specifications, you can carry an air mattress on a plane if it has a built-in pump.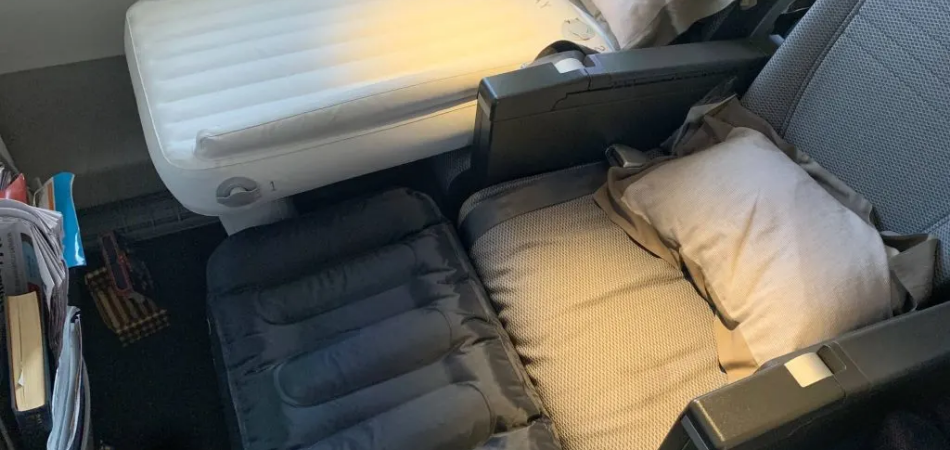 Also, you need to take note of the airline's luggage limit. It has to be within the airline's specified weight and size limit. Then you need to follow some specific rules, as we'll discuss below.
Rules to Follow:
Use A Carry-On Baggage
You can use carry-on baggage to pack whatever you need. But, don't carry a large-sized air mattress thinking that your carry-on can accommodate it. Instead, travel with a small and lightweight air mattress for more convenience.
But no matter your reason for traveling with an air mattress, carry the size that an airplane can accommodate. Most airlines have restricted space.
Check-In The Air Mattress
You can also check your mattress in as checked luggage. However, make sure that its weight and size comply with the TSA regulations. If your air mattress can't fit within your suitcase, you will have to use a box or traveling bag.
Since you will be checking the air mattress separately, you will incur additional charges. The airline will consider it as additional luggage, and extra charges will also apply.
Air Mattress Size And Weight Limits On A Plane?
In terms of the size and weight acceptable on a plane, the majority of the airlines accept 22-inches x 14-inches x 9-inch as their maximum size for carry-on. On the other hand, budget airlines accept smaller limits for their carry-on items. That's why; you need to inquire first from the airline to verify their limits for carry-on bags.
On the other hand, if your air mattress will be in the checked luggage section, ensure that it doesn't exceed the size or weight specified by the airlines. And the limit is different from that of carry-on items.
Usually, the checked luggage weight limit is 50 pounds. But the case is different if you are on first-class or specific long-haulage flights. Its weight limit may extend to 70 pounds.
If you're bringing an air mattress on a plane, you will need to calculate the overall weight in the box. It comprises the entire weight of the box package, accessories, air pump, and air mattress. This overall weight is crucial for flying purposes.
To know it, though, you inspect the product information of the air mattress to know its weight limit before buying. If you like, you can buy a self-inflatable air mattress. You can pump it with your mouth or use the pump.
Also, note that if your air mattress is much taller, it will be more comfortable. Whereas, if an air mattress is thinner, it is easier to fold up, store away, and carry for convenient traveling.
Weight And Size Limit Chart
Below is the table that contains information on sleepers, weight limit, and mattress size.
| | | |
| --- | --- | --- |
| Mattress Size | Weight Limit | Sleepers |
| Single | 350-400lbs | 1 |
| Twin | 450lbs | 2 |
| Full | 400-450 lbs | 1-2 |
| Queen | 500-600 lbs | 1 or 2 |
| King | 700 lbs | 2 |
| California King | 750 lbs | 3 |
| Twin XL | 500 lbs | 2 or 3 |
Generally, an air mattress can weigh around 10 pounds. But the queen and king-sized mattresses can weigh higher. Thus, an air mattress can reach the specified carry-on weight limit. However, you still need to be cautious when storing the mattress with other things. You can easily exceed or meet your weight limit if you are carrying a larger bag containing toiletries and clothes.
So, always weigh your air mattress before time if you want to take it with you on a plane. Thankfully, the chart above can help you choose the appropriate weight and size of an air mattress suitable for your purposes.
How To Pack An Air Mattress For A Plane?
The best way to make your air mattress portable to meet the size limit is to package it within its box. Also, locate the weight and size somewhere on the package to determine if the air mattress meets the airline specifications.
But easier traveling on a plane, do the following;
Adopt Simplicity:
It is true that modern-day air mattresses come with double mattresses to ensure maximum comfort. However, for your traveling convenience, go for single air mattresses. That's the fastest way to get a truly compact air mattress. Just make sure you buy air mattresses that have unique valves which enable automatic deflating and inflating.
Foldable:
It is important to get an air mattress that you can easily fold to be as portable as possible. To ensure that, remove every excess air remaining inside. Begin from one end, then push out all the air with your palm. Then, fold up the tent half length-wise and widthwise, then repeat until the air mattress is folded in quarters. After this process, you can roll up the air mattress so that it can fit inside a compact space.
Cover IT:
After folding your air mattress, the next step should be storing it inside a carry-on case. Covering your air mattress can protect it from punctures. Also, it makes sure that the air mattress wouldn't shift from its position while in transit.
Some air mattresses come with a protective covering. But if yours is not handy, you can always make another one for yourself. Just;
Take any pillowcase
Cut out 2 slits on each side of the hem
Make a heavy-duty thread through it to enable it to tie tightly.
Get Prepared:
While taking accessories, make sure you have extra ones to keep your air mattress in good condition. For instance, you can bring an additional pump if your air mattress does not self-inflate. Also, always prepare some specialty patches on hand.
What Items Are Not Allowed On A Plane?
The TSA (Transportation Security Administration) carry-on regulations and rules may be confusing. But if you have a reliable restriction checklist, packing your luggage for a flight becomes a breeze.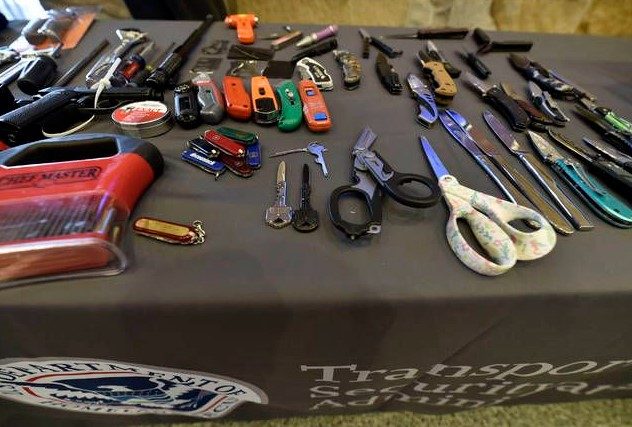 So let's check them out;
Things you shouldn't carry In-Cabin and Checked Luggage:
Compressed Gasses: Compressed gasses such as; flammables, non-inflammable and poisonous gasses. Examples; include compressed gas cylinders, aqualung cylinders, liquid nitrogen, and butane oxygen.
Corrosives: Corrosives are prohibited, such as; wet cell battery, mercury, and any apparatus with mercury, mercury, alkalis, and acids.
Explosives: Prohibited explosives are; pistol caps, fireworks, handguns, blank cartridges, ammunition, flares, fireworks, munitions, and explosives.
Flammables: You cannot carry the following on an airplane; flammable liquids and solids like; matches, briefcases, or attaché cases containing built-in alarm devices, lighters, etc. Also, radioactive materials, fire-lighters, thinners, paints, lighter fuel, and lighter refills are not allowed.
Oxidizing Items: Oxidizing items such as; peroxides and bleaching powder are not allowed on an airplane.
Infectious Substances and Poisons: Poisons and substances that can infect people are prohibited. Such as; live viruses, weed-killers, and insecticides are prohibited.
Smelling Substances: Any item that is capable of or possesses an offensive odor is prohibited. Other harmful substances like; magnetized materials and irritating or offensive materials are not allowed.
Things you shouldn't Carry In Cabin Luggage:
Liquids and aerosols
Dry cell battery
Any electronic device you can't switch off
Sharp objects, Swiss army knives, scissors, and knives
Weapons like; stun guns, batons, nan-chakus, and whips
Ammunition, firearms, or toy replicas.
Other items may be regarded as a security risk by the local
Conclusion
After reading through this article, the answer to can you bring an air mattress on a plane is answered. Now you know that you can bring it along when it is necessary. Even the TSA allows people to bring their air mattresses on the plane in either carry-on or checked luggage.
However, you need to ensure that its weight and size do not exceed the requirements for the particular airline you will be using. You have to adhere to the size and weight limit for carry-on baggage. Likewise, you must follow the checked-in luggage's weight and size.