Moving your mattress from one place to another is an expensive task due to its size and weight. However, if you want to minimize the cost of moving, you might want to squeeze the mattress into your SUV and move it by yourself.
But, the question is: Can full size mattress fit in SUV? In most cases, the answer is yes. If your mattress is flexible enough, you just need to fold it into a U shape to fit it into your SUV by reducing the width and length.
Now here in this article, I'll show you how you can fit your mattress inside your SUV with some tips and tricks.
Can Full Size Mattress Fit In SUV?
It's an exciting moment when you purchase a new mattress for your home. But the smile will fade away when you are going to transport it. You probably have two options: either ship it to your home address or take it with you in your SUV.
If you choose the second option, then you have to focus on two things. First, the size of your mattress, whether it's dedicated mattresses for car SUV truck or a regular mattress. And, the second thing is the size and available space of your SUV.
When the mattress size and the space of your SUV match each other, things become easier for you. If you're still wondering how Can full size mattress fit in SUV, we'll advise you to check the mattress dimensions and size of the SUV.
Full Size Mattress Dimensions
King: The standard size of a king-size mattress is 76-inches x 80-inches. Among all available sizes, it's the largest one that you can opt to buy.
Queen: 60-inches x 80-inches is the standard size of a queen-size mattress.
Full: A full size mattress's ideal size is 54-inches x 75-inches.
Twin: 39-inches x 75-inches is the average size of a twin mattress.
Pro Tips: You can always fit your mattress inside the SUV, just bending the mattress into U shape by reducing the width of your mattress. The same thing can be done for the length as well to create some for easy fitting.
Size of your SUV
Based on the size and available space of your SUV, the chances of fitting a mattress inside the car may vary. For example, crossover or compact SUVs don't have adequate space for a full size mattress. Where you can easily fit a mattress into a midsize or full size SUV.
For transporting a full size mattress, a full size SUV is the most convenient and safest option. You can even fit a king-size mattress with some popular full-size SUVs, such as Cadillac Escalade ESV, GMC Yukon XL, BMW X7, Toyota Sequoia, etc.
On the other hand, you need to be a little tricky with mid-size SUVs to fit your mattress. (As some midsize SUVs easily accommodate full size mattresses, some may not. ) For example, a midsize SUV Toyota Highlander and Ford Explorer will allow you to fit a full-size mattress where Nissan Rogue and Chevrolet Blazer may not.
What To Do If Your SUV Doesn't Fit the Mattress?
If the size of your SUV isn't big enough, you can go for a flexible or compressed mattress. You'll find many mattresses that come with good flexibility. When you go for a flexible mattress, you can easily bend them and easily fit them in a narrow space.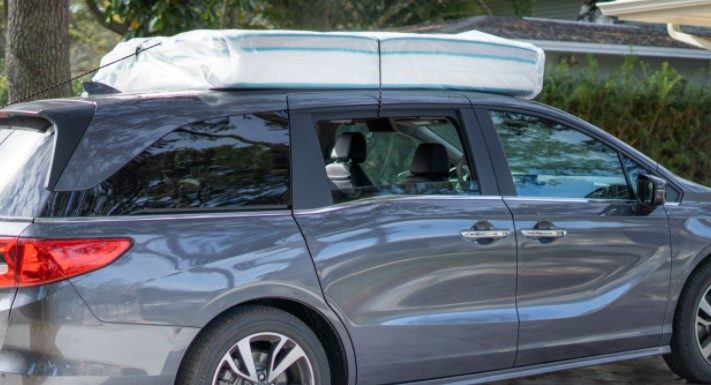 In addition, a decent quality flexible mattress allows you to easily fit them in a mid-size SUV, even some compact size SUV as well. You'll also find some mattresses in a compressed form where the manufacturer removes the inside air to shrink and reduce the size of the mattress.
Use the roof of your SUV
The last thing that you can do is to carry the mattress on the roof of your SUV. You can easily fit a mattress on the roof of a mid-size SUV. But you should only go for this option when there are no other handy options.
Tie the mattress securely  on the roof of your SUV. (Remember anything you carry on the roof of an automobile must ensure proper security otherwise it's illegal and can be fined)
Tips For Carrying A Mattress With an SUV Without Damaging It
First, you need to slide the front seats of your SUV as forward as you can and keep them in an upright position.. It'll make wider space to fit your mattress.
Watch the surroundings carefully and make sure there's no traffic coming.
Now open the back of your SUV, remove the rope, cargo strap, or if there is any bungee cord to hold the hatch closed. (Surely, you won't like to hide it under the mattress)
Hold the mattress from each side with your helper and secure it against your SUV opening space.
Push your mattress from each side to bend it into U shape.
After the mattress is folded enough to fit into the SUV, slowly slide it inside until the mattress touches the front seat.
Now tie the hatch door of your SUV and your mattress tightly so that the mattress won't move from its position while driving.
Use a strong rope and tightly tie the hatch loop. (you'll get it on the base of the door)
Get into the front passenger seat and ask your helping hand to hold the hatch door closed against the mattress and toss the rope to you.
Now tightly tie the rope to anything near you or ask your helper to hold it while you drive at home.
Final words
Now that we're at the end of this article, I believe now you have a complete idea of how Can full size mattress fit in SUV? With a large SUV, you can comfortably fit a full size mattress in a flat position.
But if the size of your SUV is a bit small, you may need to bend your mattress to fit inside your SUV. If none of these work, you need to carry it on the roof, or ship the mattress from the store to your address.