The question that bothers many people is 'Can a queen mattress fit in an SUV'? Queen mattresses come in various sizes, which will determine if you can carry one with an SUV. However, with the knowledge of the tricks, you don't need to engage a truck before carrying a queen mattress again.
Conveyance of a mattress is a gruelling task. Owners of SUVs probably wonder if their automobile will cater the adequate space to fit a queen-sized mattress. But let me ask you a question. Have you ever tried to fit a  queen mattress fit your SUV? If not, then why not now! I mean it's possible, folks. But for that, you need to know the right recipe.
Let's dive in as we have covered you up by answering the trickiest questions.
What Are the Dimensions of a Queen Mattress?
Probably you have an idea about the most common bed sizes, right? From all the bed sizes the known one is queen-sized as it does not just offer you enough space but an absolute comfort at night. Its standard size measure about 80 inches in length and 60 inches in width.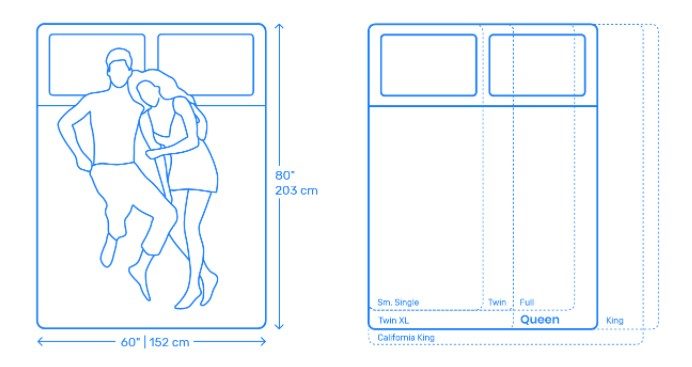 It is the apex alternative to a full-size mattress where at least you have ample space to stretch out all the stress of the whole day. You can also manage a zone for the occasional child or pet that surely needs a cuddle at night.
A queen bed is one size grander than a full-size bed and one size reduced than a king-size. This means that if we compare it with a full-size bed which is 54 inches wide by 75 inches long or a twin-size bed is 39 inches wide by 75 inches long then you'll pick the queen size.
Witness the mattresses as it varies in size ranges, bed frames, style, height, and even bulkiness. Some popular mattresses of a queen size are Zinus Cooling Gel Memory Foam Mattress or Tempur-Pedic Tempur-Adapt Hybrid are in the range of $289 to $2,199.
Are All Queen Mattresses the Same Size?
Not at all! Queen size mattress comes in three non-standard sizes, including queen mattress under 200 bucks.
Olympic size: It has a width of 66" and length of 80" i.e., 6 inches wider than a standard queen-size bed.
California queen beds: They measure 60 inches wide and 84 inches long i.e., same width but 4x bigger length.
Split queen bed: an innovative idea of adjustable beds, right? So, it has the exact width and length as a standard queen bed but as its name suggests it splits into two separate parts, each one measuring 30 inches by 80 inches.
Can A Queen Mattress Fit in An SUV?
We know that some stores may a delivery mechanism which is a bit pricey. For that matter don't rush take some time to consider all your options.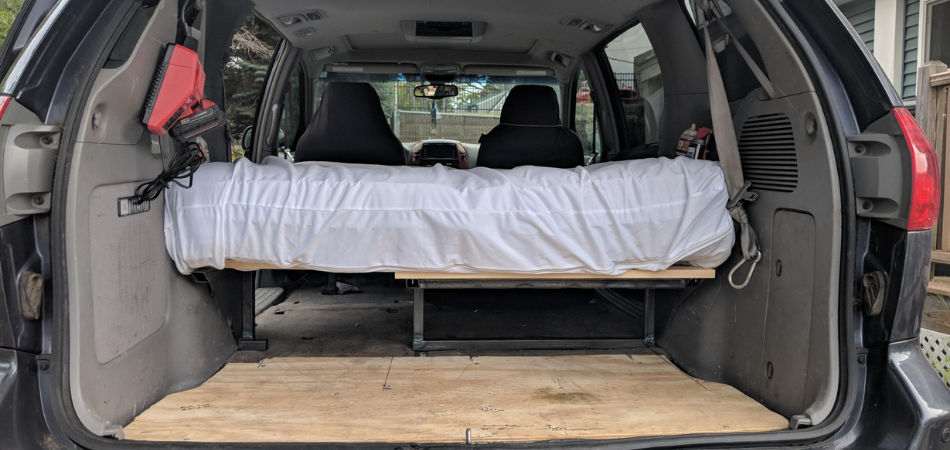 You purchased yourself a new mattress and now you're planning to get it home? Don't strain yourself in thinking that how will you get your new mattress home. We can tell you some methods just have a look. Remember: you may not need anything exclusive that a four-door sedan or other SUVs to take your mattress home.
Just map out the size and get a know-how of its packaging. Certainly, most of the mattresses won't fit inside a car's trunk or hatch. But your SUV has enough room (which you don't know) to transfer almost any mattress.
Steps To Get the Queen Mattress into The SUV Without Damaging It
Before you go anywhere, please do follow these steps and see how a queen mattress fit in an SUV:
The foremost phase you have to track down is to slide the front seats forward and upward as much as possible. Not just that, alter the back seats in an upright position to allow sufficient space for the mattress to fix in the cargo area.
While making up the space ensure that there is no traffic coming.
After that, open the doorway and confiscate the rope (you can use a bungee cord or a cargo strap) for holding the entrance closed.
Get some help from your assistant or a helper to grab the mattress from each side and sited the top against the SUV hatch.
Then push the mattress and bend the side up to make a U shape.
By doing that the mattress will fold. Take a look and see if it is enough bent into the SUV then start sliding it in until it touches your front seats.
three inches or more will twig out of the back. Here, you have to tie the hatch door against the mattress.
Go with a rope to tie it to the hatch hoop which is on the bottom of the door.
Later, jump on the front seat and ask your helper to hold your hatch doorway and closed it against the mattress.
Then ask your helper to bring the rope to you.
Once you hold the rope tie it to anything available or you can ask the helper to grab it while you drive home.
Another Solution Could Be Carrying It on The Roof
For sure there are some alternatives by which your transfer a mattress to your beloved home. One of them is tying a mattress to the roof of your car. It is an option, but it should be done carefully.
You can place the mattress in the middle of the car's roof and put the rope over the length of the mattress. Sheltered the front end of the mattress, and then the other side of the mattress. Tug the rope as tight as you can so there is no extra floppiness left.
Can you transport a queen mattress?
Yes, you can! Just centred your queen-size mattress and the box spring in the mattress bag. Then make sure that throughout your journey they remain in a well-mannered position.
Load the box spring by the back doors of the van and place it at an angle of 45-degree i.e., in a slightly tilted way. Rest the box spring against the driver wall and then load the mattress next to it. And there you go!
What size U-Haul for a queen mattress?
If you're a strategist or you managed things structurally then it's possible to load a queen-size mattress, box spring, and multiple boxes in a U-Haul. U-Haul has sufficient space and it can move your queen-size mattress in a pretty secure way.
So, not cargo but a 10' truck or 15-26' truck can carry your queen-size mattress with a box spring. For the trailers, you need a 5'×8', 5'×10', and 6'×12' cargo to fit your queen mattress and box spring depending on the size.
Will a queen mattress fit in a short bed truck?
Most of the truck bed or cargo van will give you the space you want for a mattress. A typical queen mattress's dimensions are 60″X80″and trucks will be just the right size or even a little bigger. A short bed truck may require you to leave the tailgate open for transport. But you can easily move the mattress into your home.
Final Words
Try out our 11-step method and witness a queen mattress fit in an SUV. Share your thoughts with us in our comment section. We would like to hear you out!